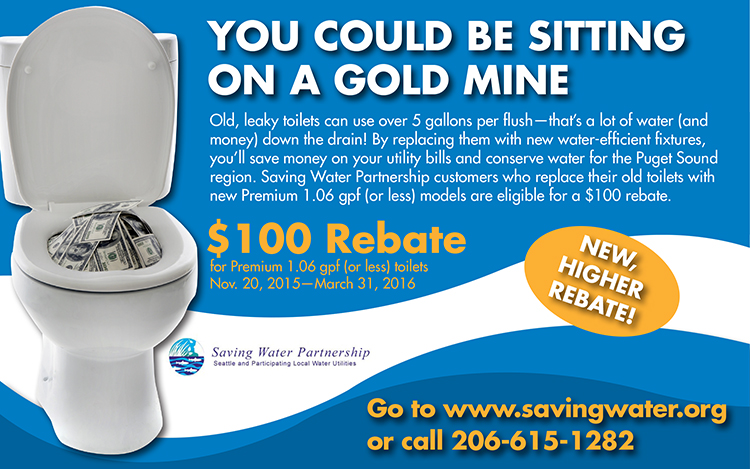 Was your toilet installed prior to 2004? Between now and March 31, 2016, you can replace that old toilet with a Premium 1.06 gallons-per-flush toilet and get a $100 rebate from Seattle's Saving Water Partnership!
Which Toilet to Choose:
There are a number of different "EPA WaterSense" toilets on the market. The ONLY toilet that is eligible for a single-family rebate is the Premium toilet that uses 1.06 gallons per flush (gpf). These toilets use 20% less water and remove 70% more solid waste than the standard WaterSense toilets.
To reduce confusion, Saving Water Partnership has removed the word "WaterSense" from their program name and is simply referring to the eligible toilets as Premium: those that flush only 1.06 gpf or less.
Eligibility Requirements:
You must reside within the Saving Water Partnership service area.
You must purchase a 1.06 gpf or less Premium toilet for the rebate.
You must live in a single-family residence or a duplex with separate utility bills. (If you own a multi-family apartment or condominium building, you can get a $200 or $75 rebate towards replacing old toilets and watch your building's water use decrease by 15-25%… click here to learn more about those rebate options.)
Your existing toilet(s) must be pre-2004 and not previously received a rebate.
You must submit your rebate application within 60 days of purchasing the new toilet.
You can only apply for a maximum of two (2) toilet rebates per household.
3 Simple Steps:
Buy a Premium 1.06 gpf (or less) toilet. Use this list of toilets 

(pdf)

 to find qualifying toilets, ad/or this list of local retailers 

(pdf) to purchase the toilet

. Toilets may sometimes need to be ordered.
Fill out a rebate application:
Send the following three (3) items to the address below:

Signed, completed application.
Purchase receipt that includes the brand and model number of the new Premium 1.06 gpf (or less) toilet(s).
Copy of your water bill.
Rebate Address (Mail or fax):
SPU – Toilet Rebate Program
PO Box 34018
Seattle, WA 98124-4018
Fax: (206) 684-8529
Getting Rid of Your Old Toilet(s):
You can take your old toilet(s) to one of the following four (4) locations to be recycled (fees apply). NOTE:  you must remove all non-porcelain hardware and wax rings.
All Wood Recycling
8504 192nd Av NE
Redmond WA 98053
(206) 682-5735
Bobby Wolford Trucking & Recycle Yard
22014 W Bostian Rd
Woodinville WA 98072
(425) 481-1800
Kangley Rock and Recycle
510 Monster Rd SW
Renton WA 98055
(425) 226-1000 x 3339
Renton Concrete Recyclers
500 Monster Rd SW
Renton WA 98055
(206) 772-2278
More Information:
For more information or help with choosing or locating toilets, contact Billie Fisher at billie.fisher@seattle.gov or call (206) 615-1282.