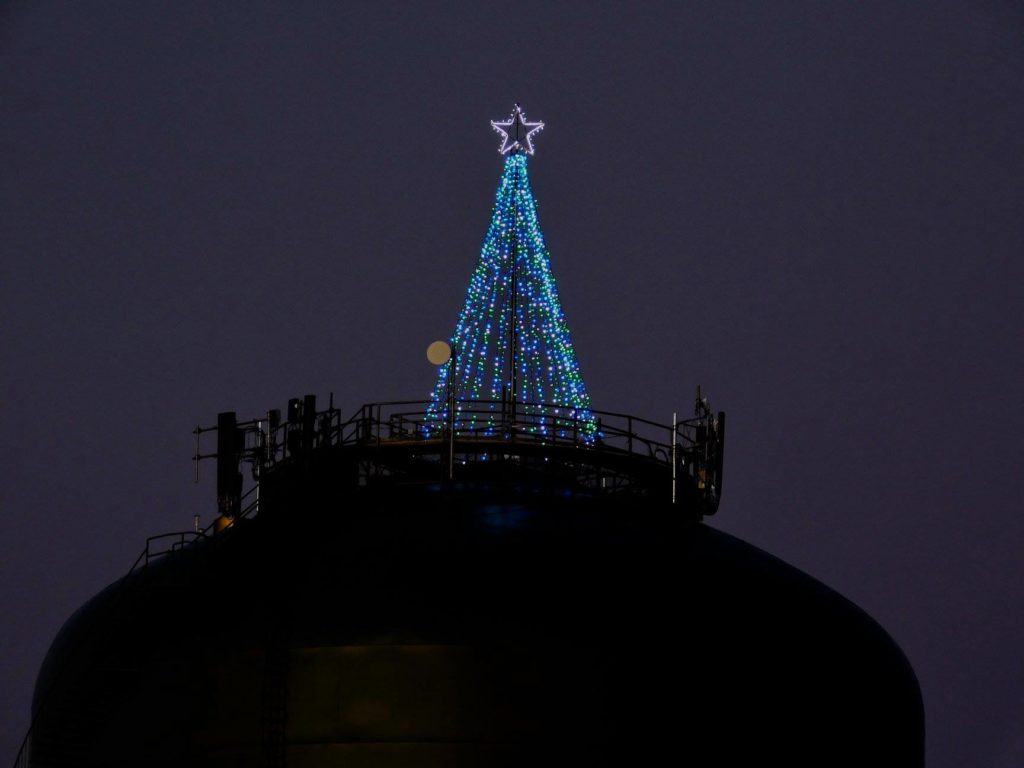 Amidst all the changes and adjustments that COVID-19 continues to impose on our lives, our Commissioners believe that some traditions are too important to miss, even if they look a little different this year. 
For this reason, we've decided to go ahead with our annual Holiday Tree Lighting—a tradition we've upheld since 1997—even if it means Santa won't be appearing this year, and we can't gather at our usual Les Schwab parking lot for in-person festivities on the night of the first lighting.
Keeping the "Tree" and Our Spirits Alight
Starting Saturday December 5, and continuing every night during the month of December, our long-standing tradition for the nightly lighting of the "tree" atop our water reservoir will continue… without the in-person component… in hopes of inspiring everyone in our community to keep their holiday spirit going strong.
Above photo of our 2018 "tree" by L. M. Titus Photography; below photos from Celebrations Past…

Help Spread the Spirit in Our Community
Between now and December 17, drop off a brand new, unwrapped present suitable for a child at the Les Schwab Tire Center in Shoreline (17754 15th Avenue NE). Your donated gifts will be hand-wrapped and re-gifted to kids in need throughout our community.
As you gaze up into the night sky at our festive tree, know that our wishes for you and your family remain unchanged: have a most safe and happy holiday from all of us North City Water District!
Photos of Celebrations Past from Shoreline Area News…