If your home was built during or prior to 1970, North City Water District needs your help to identify which of our customers' water lines may contain lead, as a first step in a national effort to "get the lead out" of the water system.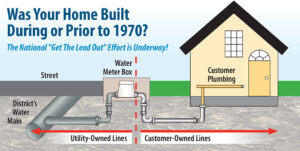 The US Environmental Protection Agency (EPA) is requiring all public water systems to perform a Lead Service Line Inventory, with results provided back to the EPA by October 2024.
The purpose of this inventory is to identify and document what type of pipe material is being used across our water system—including both the utility-owned water lines, as well as our customers' water lines (as shown in the above diagram).
Two parts of the Service Line need to be assessed:
District-Owned: the line that runs from the District's water main to your water meter; and
Customer-Owned: the line that runs from the water meter to your home.
North City Water District has never used lead in our service lines from the main to the meter, and King County banned the use of lead service lines in the late 1960s.
However, homes built during or before 1970 could have lead pipe in the customer-owned portion of the water line (between the water meter and the home).
This is where we need your help.
If your home was built during or prior to 1970, we are asking our customers to fill out a survey to help us gather as much information as possible. There are four ways to access the survey:
Click here to fill out our online survey — this is the easiest / fastest method.
Download the Interactive Survey and fill it out electronically. The fields in this PDF version are interactive — you can type directly into each field, save the document, then attach it to an email (along with any photo attachments you might have) to leadservicelines@northcitywater.org
Download the Printable Survey, print it out, fill it out by hand, then drop it off at our office, or send it to us by postal mail to North City Water District – 1519 NE 177th Street, Shoreline, WA 98155.
Request a Survey be sent to you by Mail: call us at 206.362.8100 and we'll send a survey form out to you. Fill it out, then mail it or bring it in to our office.
The goal of this survey is to help us gather critical information about your service lines, so we can avoid the need to dig up your property to assess the lines directly.
If you have any questions at all about this process, please don't hesitate to give us a call at 206.362.8100.