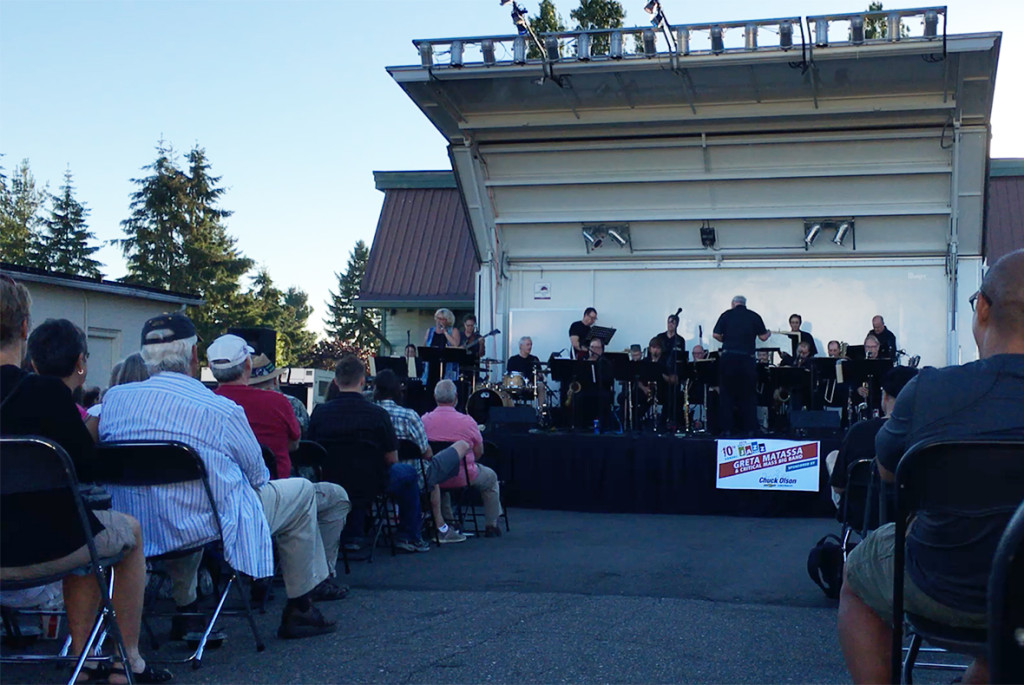 Where can you go for a night of outstanding live jazz music, delicious food, and a warm stroll under the setting sun and stars?
The 2017 North City Jazz Walk!
This coming Tuesday August 15, between 6:00 and 10:30 pm, four blocks will be closed off to traffic along 15th Avenue NE in Shoreline to allow everyone to roam freely while enjoying some of the areas's finest jazz bands and musicians, including:
Brooke Lambert & Tessa Korver with local high school musicians
Location: Bethel Lutheran Church – inside
Sponsor: Bethel Lutheran Church
Shear Jazz (no website)
Location: Bethel Lutheran Church – lower parking lot – OTP†
Sponsor: Sindelar Communications & Marketing
Sundae & Mr. Goessl
Location: Easy Monkey Taphouse – inside upstairs
Sponsor: State Farm Insurance – Phil Hillstrom and Rachel Alexander
Pearl Django
Location: Easy Monkey Taphouse – inside downstairs
Sponsor: A Northwest Dental
Hopscotch & David Arteaga
Location: Vesper – inside
Sponsor: Vesper
Greta Metassa
Location: Industrial Air – stage
Sponsor: Printing Plus
EntreMundos Quarteto
Location: Dorian Photography / website – OTP†
Sponsor: Rallie Jamero of Allstate Insurance
Johnny Pinetree and the Yellin' Degenerates
Location: North City Bistro and Wine Shop – inside
Sponsor: Gabbert Architects and Planners
Bill Anschell
Location: North City Water District – inside
Sponsor: Shoreline Rotary Club
Eugenie Jones
Location: North City Lounge – inside
Sponsor: Boyer Electric
Hook Me Up
Location: Frank Lumber – The Door Store – OTP†
Sponsor: Lancaster Law Office
Parking is plentiful and free, and there's all sorts of food, wine and beer available at area restaurants, street booths / food trucks, and several of the music venues. Visit the North City Jazz Walk website for all the details and a link to purchase your tickets at: www.northcityjazzwalk.org.
*Get your tickets soon… the price goes up on the day of the event!
†Three of the venues are Open To the Public (OTP); only ticket holders have access to all eleven venues.
We hope to see you there!