On Tuesday August 1, the Hearing Examiner will be taking public comment regarding North City Water District's Special Use permit and variance to redevelop the vacated Northwest Church Property for the maintenance of vehicles, shop, equipment storage, vehicle and machinery parking, fueling facility, and an onsite utility yard with outdoor storage. 
North City Water District is also requesting a zoning variance to construct an 8-foot wall and/or fence along all property lines.  Your input is needed to help this project be of most benefit to the neighborhood.
Come share your thoughts, comments, and tell us what you'd like to see at our…
Public Hearing:
6:00 pm on Tuesday, August 1, 2017
at Shoreline City Hall in the Council Chamber
17500 Midvale Avenue North in Shoreline, Washington
Oral or written comments will be accepted.  We hope to see you there!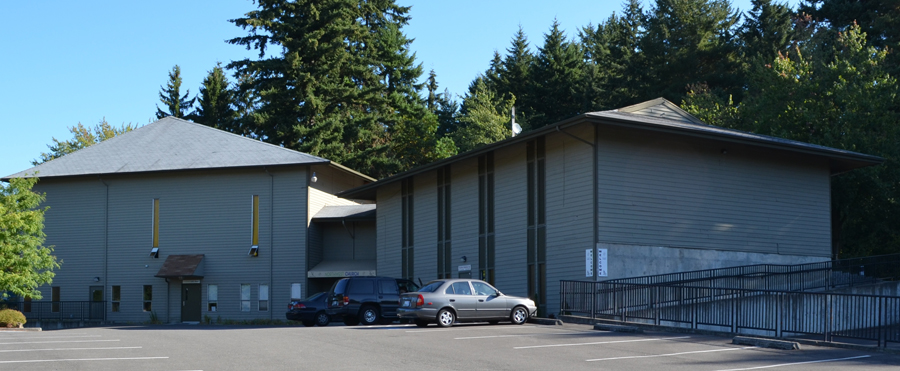 Above: existing structures on the site (formerly the Northwest Church)
Project Background:
In 2014, North City Water District purchased The Northwest Church property—a 3.2 acre site located just southwest of Hamlin Park, at 15555 15th Avenue NE in Shoreline, Washington.
At that time, the District applied for and received a Special Use Permit to reuse the existing structures on the site for our new Maintenance Facility.
After extensive site and facility analysis, the District is now in the process of redesigning the site, which will identify our long range vision for the property. We are currently seeking a Special Use Permit from the City of Shoreline to redesign the site for our maintenance facility.
A neighborhood meeting was held on Tuesday, April 25 at 7:00 pm (see previous post).  Copies of the minutes from that meeting acan be viewed and downloaded here.