The Story of North City Water District – Chapter 4 of 10
1952 – 1961
As the world entered into the post-World War II economic expansion, the resulting exodus to the suburbs brought ever more population growth to the North City area.

More growth led to more people needing water service: in 1954, the City of Seattle annexed and began providing water to Northgate, Sandpoint, Greenwood and Lake City via Seattle Public Utilities (SPU); in 1957, we annexed and began providing water service to several adjacent areas near what would eventually become the City of Lake Forest Park.
Servicing our rapidly growing population required a number of new components, including a 1,000,000 gallon reservoir, two Booster Stations to regulate water pressure, a Supply Station, and four miles of cast iron water mains—a welcome change from the steel mains we had to install during wartime iron shortages of the previous decade.
However it wasn't all new construction: water main repairs became more common as those same steel mains began reaching the end of their life cycle and causing an increasing number of leaks.
With the close of this decade, as Russia launched Sputnik, Alaska and Hawaii became a part of the United States, and Elvis Presley was taking music to a whole new level, construction was booming everywhere in our nation—including the development of Interstate 5, which began dividing our service area into two sections.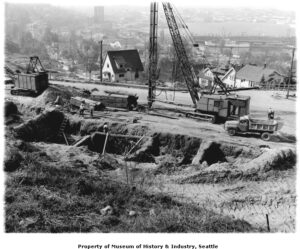 Given the combined challenges of a newly segmented service area and the leaking steel water mains, we initiated an extensive water system engineering analysis to identify the most cost-effective way to address these evolutions in our system.
In 1961, as our customer base was approaching 5,000, and Lake Forest Park was incorporated as a city, a new organization called the Washington Association of Sewer and Water Districts (WASWD) was formed to organize, represent, and support the interest special purpose districts like us—something that we continue to be grateful for to this day!

Our next blog post will cover the decade from 1962 through 1971 (if you missed previous decades, click here). We invite you to follow along as we share the entire story of our 90 year history… with sincere thanks to Victoria Stiles and Kenneth Doutt of the Shoreline Historical Museum for their generosity and time in sharing so many fascinating details (and photos!) with us.