The Story of North City Water District – Chapter 3 of 10
1942 – 1951
This decade was packed with significant changes—both for our nation during and after World War II, as well as for our service area, which bucked the national population trend by continuing to grow at a very fast pace.
One of our first concerns was the ongoing iron shortage due to the war. Normally water mains (large water transmission pipes) are made from ductile iron for maximum structural integrity and longevity. However war-time demands for iron gave us no choice but to install water mains made from steel, in order to provide timely water services to our ever-growing population.
Other impacts of the war included fuel oil rationing, which both the District and our customers were using for heating and transportation. The Standard Oil Company of California sent us a letter documenting our fuel oil purchases for the calendar year 1942, and informing us of the new requirement to register for fuel oil rations, "with exception to fuel oil and diesel for governmental uses other than heating."
With the unconditional surrender of Germany in 1945, our nation began its long recovery from the war. In stark contrast to our nation's "lowest population increase in the 20th century," our area was still experiencing a surge in growth.
The following year, the area south of Lago Vista and north of Monte Vista had become a successful, small-town-style business district. Residents and businesses formed a community club, and held a contest to name the area, which had expanded beyond its original Lago Vista boundaries. A young woman came up with "North City" (winning a radio for her entry), giving our area its own official designation at last.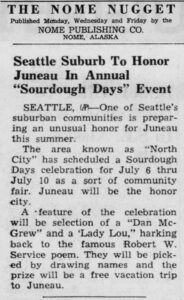 With more businesses came the need for more promotions. The first president of the North City Community Club, Tracy Owen, worked closely with business owners to come up with something grand. Using a play on the words "North City" to evoke a place in the far Alaskan North, "Sourdough Days" was born.
People came from all over to participate in the Sourdough Days' parade, contests, games, and rides, there was even a rodeo held at the stables where St. Mark's Church stands today. What began as an annual July event for locals soon became a regional hit, attracting thousands of people to the North City area every summer.
More visitors eventually led to even more new residents, so in 1948 we began installing larger diameter water mains to provide adequate supply, while replacing what we could of the original steel mains.
The next year saw the District's first drought-related water shortages, requiring we impose our first-ever water conservation measures: disallowing lawn and garden sprinkling between certain hours, on certain days, alternated between odd/even house numbers, and "during the progress of any fire."
In this way we made sure "certain persons using water for sprinkling without restriction" (an excerpt from the meeting minutes that year) did not diminish the household supply for others in our service area.
But we didn't stop there: in the summer of 1950, we began construction of a second, even larger reservoir next to our existing elevated storage tank. The new reservoir's 400,000 gallon capacity greatly enhanced our water storage capabilities, which enabled us to be far more resilient during drought conditions.
Given that our customer base had grown from roughly 700 households and businesses to over 3,500 by the end of this decade, the timing couldn't have been better!

Our next blog post will cover the decade from 1952 through 1961 (if you missed previous decades, click here). We invite you to follow along as we share the entire story of our 90 year history… with sincere thanks to Victoria Stiles and Kenneth Doutt of the Shoreline Historical Museum for their generosity and time in sharing so many fascinating details (and photos!) with us.