When life-long Shoreline resident and Commissioner Charlotte Haines' term came up for re-election, none of us were surprised to see the overwhelming support she received from local citizens. We are proud to announce Charlotte has been officially sworn in to serve her third consecutive term for North City Water District!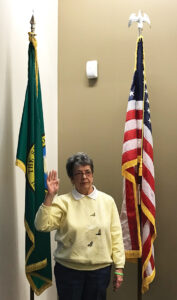 However, Charlotte's service to our District is just one of many examples of her ongoing dedication, initiative, and leadership within our community.
When the City of Shoreline incorporated in 1995, she was instrumental in the creation of the Shoreline Council of Neighborhoods, where she served as a long-time member.
Charlotte also founded the North City Neighborhood Association (NCNA) in support of local businesses and served as its president for several years. Her leadership of the NCNA began with a cleanup campaign to remove sidewalk weeds and litter from the North City Business District. But she didn't stop there…
One of Charlotte's first efforts resulted in the beautification of our streets every spring and summer, with the installation of hanging flower baskets. What initially began as a potted flower campaign outside of businesses, eventually grew into flowering street baskets, thanks to her persistence and first-hand involvement: for years, she did daily flower basket watering runs herself! Although the Shoreline Parks Department has since taken over the entire effort, the baskets still remind us of Charlotte every year we see them blooming.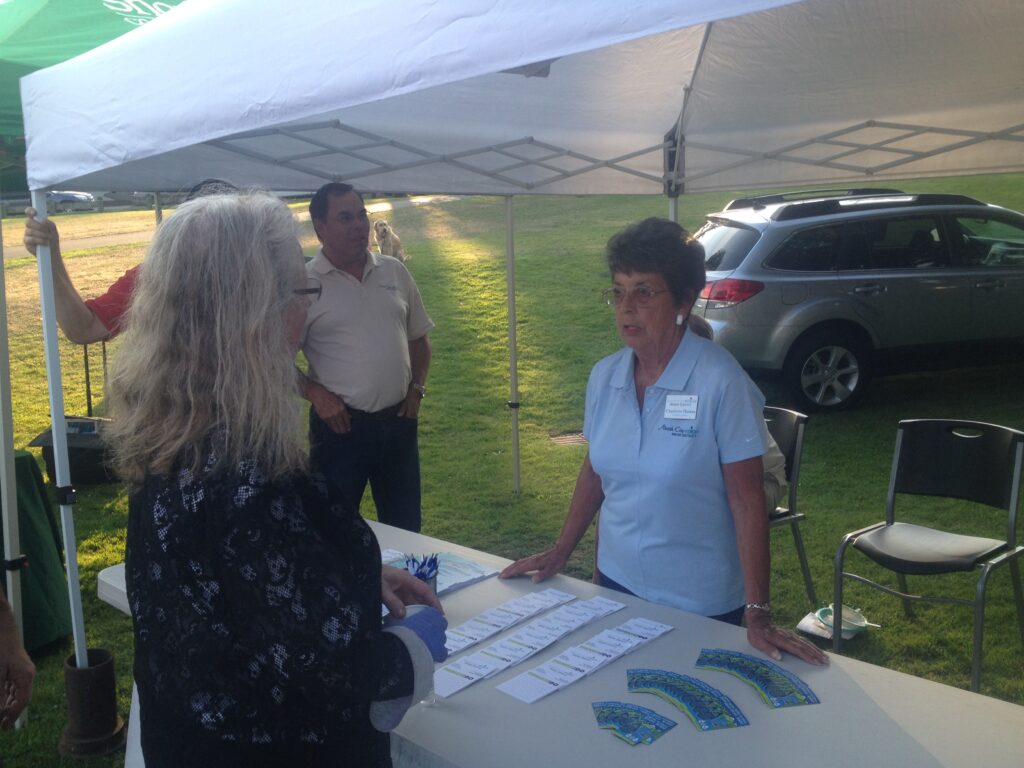 Charlotte has been an active volunteer in the the Celebrate Shoreline festival, including planning and coordination of the North City Jazz Walk, as well as the Celebrate Shoreline parade, for which she served as the parade's Grand Marshall back in 2001.
Here at the District, where she became a Commissioner back in 2002, Charlotte is always on hand for our community education booths at Celebrate Shoreline, Lake Forest Park events, and the Ridgecrest Ice Cream Social. With exception to the past two pandemic holidays, she has helped us coordinate an evening of caroling, refreshments, gifts, and a Santa appearance for the community during our annual "Holiday Tree Lighting" festival.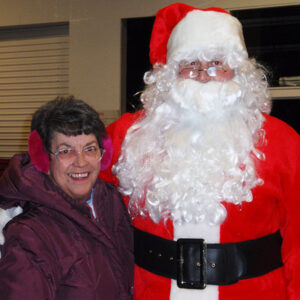 Charlotte has provided invaluable oversight and guidance in the planning, operations, and management of our water system during her years of service as one of our Commissioners. Within our community, she is known for her approachability and commitment to open-minded, open-door communication.
"I'm so proud to be involved with North City Water District," says Charlotte. "Having a water system run by a special purpose district makes a world of difference. We have only one focus—an excellent water system—and we spend all of our time and thought and energy on making sure it's the best it can possibly be."
Having lived in the same North City home since 1962, Charlotte's community ties, depth of experience, and historical perspective are a welcome addition to any effort, but are particularly appreciated by us at North City Water District. Thank you Charlotte, for your many gifts to our community!