Enjoy beautiful, low maintenance, water saving gardening with native plants.

NATIVE PLANTS : Combining Beauty with Water Conservation
Thursday, February 24, 2022
6:30–8:00 pm
Held ONLINE via ZOOM*
About The Class
This class, designed specifically for the Northwest garden, will teach you how to enjoy the sustainable beauty of Northwest native plants. Naturally suited to our wet winters / dry summers, discover these low-maintenance and water-saving wonders that add seasonal color to our yards. Join instructor Peggy Campbell as she shares her favorites for sun, shade, and part shade — along with tips to start them off right.
Email Registration Required
This Savvy Gardener class is being held online using the free Zoom platform. To register, you must provide your name and email address to theresah@northcitywater.org so we can send you a link to join the class.
*How Zoom Works
If you haven't used Zoom before, this video provides a nice overview of what to expect and how to get started (if you wish, you can skip her preamble and start watching the steps at the 1:12 minute mark).
About a week before class, you will receive an email with the Zoom class link. Be sure to check your inbox (and your spam filter too, just in case) for this email. If you still haven't received it on the day before class, contact theresah@northcitywater.org / 206.362.8100.
On the evening of the class, use your desktop computer, a laptop computer, a tablet, or a smart phone to click the link in the email we sent you to join the class. We recommend doing this about 5-10 minutes before class (the Zoom "room" will open at 6:15 pm) to allow for any last minute technical adjustments.
You will be able to see and hear the presenter and her slide show, and you can ask questions through the chat feature. Your privacy is assured: attendees are not be able to share audio or video.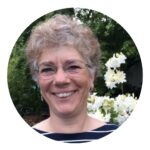 About Our Presenter:
Believing gardening should be fun and satisfying, Peggy Campbell enjoys showing others how to take the work out of gardening. She shares tips learned while transforming her own time-intensive, weed-filled yard into an easy-care landscape of seasonal color every week of the year! An ecoPRO Certified Sustainable Landscape Professional, her gardening roots include a Bachelor in Horticulture from Washington State University.  LinkedIn