This past month, our operations and engineering team was excited to welcome a new utility crew member into the fold:  Zach Douglas!
From his time spent working as mechanic, and helping customers at Dunn Lumber, to installing fire sprinkler systems with all of their related pipes and fittings, Zach had the right foundation we were looking for in an entry level Utility Crew member. Add in his love of working on both small and large mechanical equipment, and he was more than ready to embark on a new water utility career!
The fact that the job is never boring is an added plus for Zach: a typical day may have him doing water meter re-reads or final meter reads for customers moving out; going to customers' homes to ascertain possible leaks; finding and marking the location of underground water mains and services to make sure nearby construction crews don't damage our pipes; deactivating and reactivating radios to make sure they communicate properly to the tower; and general upkeep around our Maintenance Facility, including washing trucks, cleaning the building, and watering the landscape.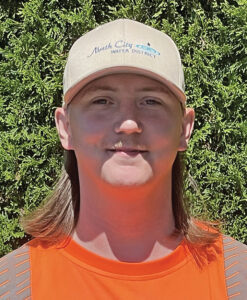 "I love that every day is something new, there's no shortage of tasks to learn, and the guys are really helpful when it comes to something I don't know."
Special talents we've already come to appreciate are his positive working attitude, his ability to think out of the box to solve problems, and his natural gift for thoughtful communication and interaction with our customers.
When he's not on the job, his first love is golf… followed closely by outdoor barbecuing, camping, fishing, jet skiing, and boating with friends. Welcome aboard Zach, we're thrilled to have you!