If you've been driving in the vicinity of 15th Avenue NE and NE 177th Street, you've no doubt noticed the work taking place on our 3.7 MG North City Reservoir. While it may appear to be nothing more than a repainting project, it's ever so much more, as shown in the timeline below.
A water reservoir serves two purposes: to hold water in reserve, and to maintain proper water pressure within a given service area. When we added a second water source in 2013 (Cedar River, in addition to our Tolt Watershed connection), we were able to take a fresh look at how water pressure was maintained throughout our system.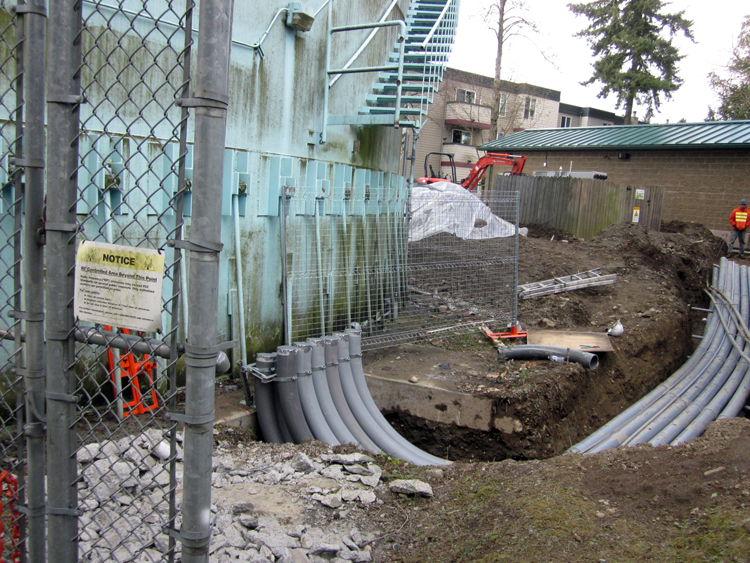 Our studies showed that adding a new Pump Station, along with internal upgrades to our 3.7 MG reservoir, would provide enhanced water pressure for the least possible cost—despite having to demolish the old 0.4 MG reservoir to make room for the new Pump Station. Because crews would already be on site for the 3.7 MG reservoir's interior upgrades, it made sense to have it repainted at the same time.
However, repainting the reservoir was not a simple task, since it was home to a number of antennas owned by various wireless carriers in our area. In order to repaint the reservoir, all of these antennas had to be relocated—requiring months of discussions, negotiations, and agreements with each carrier.
As of this writing, we've negotiated new, long-term antenna leases with each carrier, a large crane is installing a railing on top of the reservoir, onto which the wireless carriers will install their antennas. The new Pump Station will be going out to bid in August, awarded in September, and construction is anticipated to begin shortly after.
So the next time you look up at the reservoir and admire its fresh coat of paint, remember it's just one of many improvements we've made recently to make our water operations more efficient, and to handle a large amount of water without building a new reservoir.
If you have any questions about this project (or other projects), please call 206.362.8100.
Timeline of the North City Reservoir Project
2007
Begin lease discussions with wireless carriers re: 3.7 MG Reservoir Upgrade, new Pump Station and new Carrier Bldg.
2008
Begin Pump Station predesign study
2009
Begin design of 3.7 MG Reservoir Upgrade project (interior and exterior)
2010
Continue lease negotiations with wireless carriers
Begin discussions with the Health Department
2011
Plan, permit and demolish the 0.4 MG Reservoir
Begin site planning and lot line adjustment
Select new Pump Station designer
2012
Finalize and sign new wireless carrier leases
Obtain 1% financing for the Pump Station Project through Washington State's Drinking Water State Revolving Fund
Begin designing the new Pump Station
Select designer and design the Carrier Building
2013
Sign remaining wireless carrier leases
Obtain permit and construct new Carrier Building
Finalize design and obtain permit for 3.7 MG Reservoir Upgrade project
2014
Complete 3.7 MG Reservoir Upgrade project
Obtain permit and begin constructing new Pump Station
2015
Complete Pump Station Project