On Tuesday August 14 (just three days away!) we're excited to once again provide our conference room as one of the venues during the annual North City Jazz Walk.
This affordable, family-friendly, live music event features TEN award-winning jazz bands, all situated along five blocks of 15th Avenue NE in Shoreline, Washington—playing in a variety of indoor venues (available to ticket holders only), as well as outdoor stages (two of which are open to the public without tickets).
Dance under the setting sun and stars to the strains of old and new jazz, enjoy delicious "Jazz Bites" food, relax in the beer and wine garden, get the kids involved in a fun "petting zoo" of musical instruments and tours of Shoreline Fire District's fire truck, and so much more—all at North City's twelfth annual Jazz Walk—produced by the North City Business Association as the first kick-off event of Celebrate Shoreline!
Ticket prices are $20… but the price goes up to $25 as of midnight Monday (the night before the event), so get yours today!
Come for the Food, Stay for the Music
Starting at 6:00 pm, each venue will offer their own "Jazz Bites"—ranging from snacks and appetizers, to gyros, sandwiches, pizza, and more—continuing through the performances.
At 6:30 pm the outdoor music begins, with indoor venue music starting at 7:00 pm (one artist per venue), each performing three 50 minute sets at their venue.
All venues are located within easy walking distance on 15th Avenue NE, in between NE 175th and 179th Streets, in Shoreline.
Get all the details on the Jazz Walk Website here >

The Musicians at North City Jazz Walk 2018
This year our conference room will feature Pearl Django's fun "gypsy jazz"—a blend of dexterous string work, Bal Musette, rhythm guitar, and swing.
Meanwhile in the other venues, the following musicians await you (click on the name of the musician to learn about them). Look for a copy of the map in your Event Program that night so you know exactly where and when to hear each one!
Susan Pascal Quintet with Pete Christlieb
Two venues are Open to The Public (OTP); ticket-holders have access to all venues.
Two venues are adults only, due to state liquor board restrictions.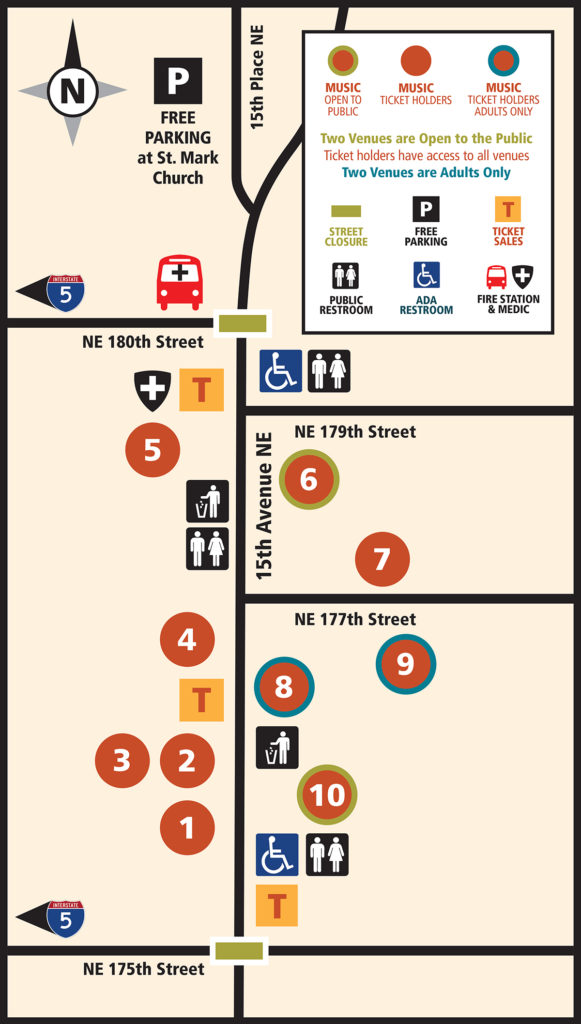 Parking Options for North City Jazz Walk 2018