North City Water District is pleased to announce that Patty Hale has been sworn in as our newest District Commissioner Position #2 at this afternoon's Board meeting.
After publicizing the commissioner vacancy in various local media, on the District's website, Facebook page, and in their quarterly newsletter, North City Water District's Board of Commissioners received applications from four individuals located within the District's service area.
Three candidates, including Patty Hale, Richard Nicholson, and Lloyd Skinner were interviewed at the January 8th special meeting; the fourth candidate, Corinne Travis, withdrew from consideration prior to the interviews.
"We were so impressed with the credentials of all four candidates," stated Commissioner Ron Ricker. "Their collective professional experience, educational background, and record of civic engagement was astounding. It was a tough decision, but ultimately we selected Ms. Hale for her long-term interest in the work of North City Water District, coupled with her unwavering and extensive commitment to her community."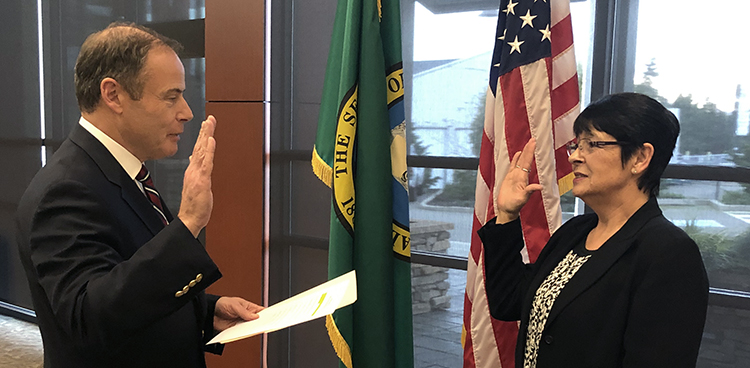 With over 27 years of community leadership experience as a board member for local organizations—including the Ridgecrest Neighborhood Association, Shoreline Council of Neighborhoods, King County Parks Commission, and the Shoreline Parks, Recreation and Cultural Services Board—Ms. Hale's strong background in community service will be a tremendous asset to the District.
North City Water District is governed by an elected three-member Board of Commissioners. The Board sets policy and provides direction and guidance to District staff through a strategic planning process. They represent the District in communicating perspectives on regional partnerships, and issues of importance to the District, while also addressing the concerns of customers.