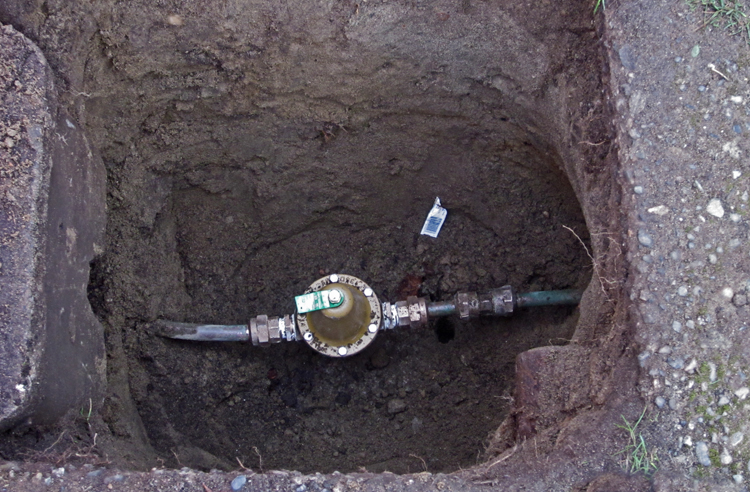 The second phase of Pressure Reducing Valve (PRV) installations is scheduled to begin later this year within the Ridgecrest neighborhood. These PRVs will be installed "downstream of the water meter," i.e., on the customer's side of the water service.
Why are PRVs needed in the Ridgecrest Neighborhood?
Currently, some portions of Ridgecrest area's water system does not meet the Fire Department's requirement of 3,000 gallons per minute (gpm). Once the new North City Pump Station comes online, water pressure within the Ridgecrest area will increase to approximately 11 – 20 pounds per square inch (psi), creating a new pressure zone.
This increase will meet fire flow requirements, but it will also cause the water pressure in some areas to be higher than recommended (the Uniform Plumbing Code establishes a limit on private plumbing systems to a maximum of 80 psi).
Using hydraulic modeling, a system-wide analysis*, and on-site field inspections, the District identified approximately 169 water services or residences in the area that will require the installation of a PRV, in order to prevent their water pressures from increasing to higher than 80 psi.
The only other alternative—to install multiple PRV vaults within the roadway right-of-way throughout the service area—would have been approximately three times more expensive than individual service PRVs.
Learn More:
The public is invited to attend a Project Information Meeting on Tuesday, May 19 at 6:30 pm at the District's main office, located at 1519 NE 177th Street in Shoreline.
To learn more about PRVs, read our blog post detailing the first phase of this project here >
To view / download a list of affected addresses, click here >
*This analysis was performed as part of the District's Capital Improvement Plan 2010 (published in 2011), created in response to the District's Water System Analysis Update, which is required by the Department of Health. 
Project Title: Residential PRV Installation Project (615 PZ West) for Ridgecrest
CIP# 2015-01
Location: Ridgecrest Neighborhood
Construction Start Date: spring 2015
Construction Completion Date: TBD
Constructon Cost: N/A
Consultant: In-house
Contractor: N/A