Attention Parents: need some fun, easy, educational activities for your kids this summer? North City Water District is proud to support parents and students who are social distancing at home with our very first, in-home, science-based, water-focused educational activity for early elementary students:
Dinosaur Water: Exploring the Water Cycle
The same water you drink every day has been here on earth for a very long time—even before the dinosaurs! How does the earth keep supplying us with water? This activity will provide the answers!
All you need to conduct this guided, hands-on learning activity at home are a few basic items you can find around the house, and a printer to print out the downloadable documents listed below.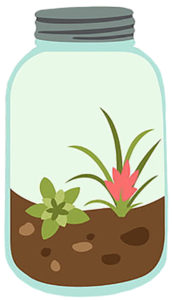 But you can make this activity even more fun and educational by visiting our drive-through window to pick up a FREE Terrarium Kit to enhance and reinforce the topic (supplies are limited; please call ahead to confirm availability: 206.362.8100).
Show Us What You Learned!
We'd love to see how this lesson went for you. If you're comfortable sharing, email a photo of your child's terrarium, or completed worksheet, or a coloring page, or even dressed up in a lab coat being a "Water Scientist" if you like — to theresah@northcitywater.org — and let us know if you have any suggestions for improvement, or ideas for a future water-related activity.
North City Water District is committed to finding creative ways to connect during these challenging times. Be sure to check out our extensive list of Distance Learning Resources, and check back regularly as we plan to continue adding more resources as they become available!