Seattle Public Utilities has officially changed its water supply outlook from "good" to "fair."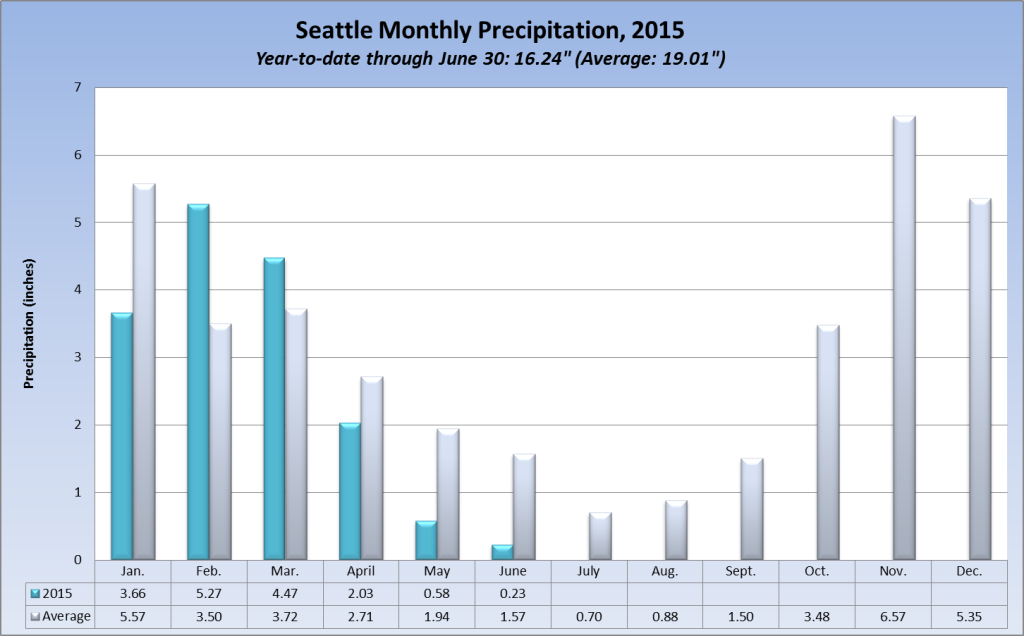 Blue = actual; Grey = average. Image courtesy of the Seattle Weather Blog
With a scant 0.23 inches of rain during June, combined with May's meager 0.58-inch total, Seattle has experienced its driest May 1-June 30 period on record. Add in extra hot June temperatures, the resulting higher-than-usual water consumption, record-low stream flows into storage reservoirs, and the onset of El Niño conditions… being extra thoughtful about water use just makes sense.
Ray Hoffman, SPU's Utility Director, says the city's water supply is still adequate until fall rains return. However, since May 1, actual water use has exceeded expected use by 21%, so he's making some changes to maximize that supply and once again asking customers to use water wisely.

What does this mean for our ratepayers?
Continue to use water wisely. Seattle is not implementing water use restrictions at this time, however Seattle Public Utility is making operational changes to maximize water supply. These measures include preparing pumps that can help access billions of additional gallons of water at Chester Morse Lake Reservoir in the Cedar River watershed, and turning on the city's well field north of Sea-Tac Airport.
SPU is also considering if and when to implement its Water Shortage Contingency Plan (WSCP), which would allow the department to respond in the event of a potential water shortage. The plan was last implemented in 2005.
•  For a list of handy water conservation tips, click here >
•  To read Seattle Public Utility's official announcement, click here >
•  To view a weekly report on Seattle's water supply, click here >