While local fire department staff were

performing training exercises

on the site of our future new Maintenance Facility, we at North City Water District were busy preparing for the next phase of the project: hiring a contractor for the initial site work.
On Monday, June 18, we received 5 bids; New West Development out of Everett was the lowest bidder at $2,012,499 (excluding Washington state sales tax), and was awarded the bid. On Friday, July 6, the District issued a Notice to Proceed; on Monday July 9 we received permits from the City.
This morning, New West Development began installing temporary protective fencing around a number of large trees located at the northeast end of the property, on NE 158th Street. During the fence installation, a resident driving by the site stopped to ask if the trees would remain on the site; she was quite pleased to learn that they will.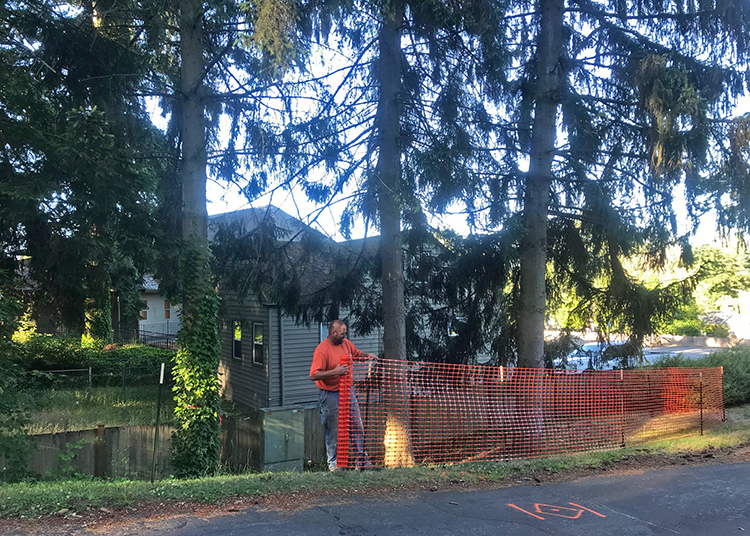 Listening to Our Community
These trees are being preserved as a direct result of a Public Neighborhood meeting held back on November 15, 2017, during which multiple members of the neighborhood and community asked us to keep the trees. Based on this feedback, our Commissioners held a special meeting in November, voted to keep the trees, and asked the design firm to come up with options for a new retaining wall that would allow us to relocate the sidewalk, in order to protect the trees.
Although it cost a bit more to deviate from the City's standard sidewalk requirements with a planting strip (Option A), Option C was eventually selected. View all the options here > Other trees on the site will still need to be removed to accommodate the breadth of construction necessary for our new facility, but we are proud that the trees of most concern to the neighborhood were saved.
Another question raised at the November 2017 meeting was about the precipitation information used for this project; our stormwater engineer is using 37.5 inches of annual rainfall for this project.
In the coming weeks, New West Development will begin an extensive asbestos removal effort, with expected completion by mid November.
Later this month or early August, we'll be submitting building plans and specifications for the second portion of the project — construction of the buildings.
We chose to manage this project in two separate contracts (site work / building construction) to enable more focused financial tracking and project management.
For more information and schedule updates, visit the New Maintenance Facility project page >
If you have any questions or comments, please contact Denny Clouse, our Operations Manager, at 206.362.8100.