Expanded Water Utility Services Required an Expanded Maintenance Facility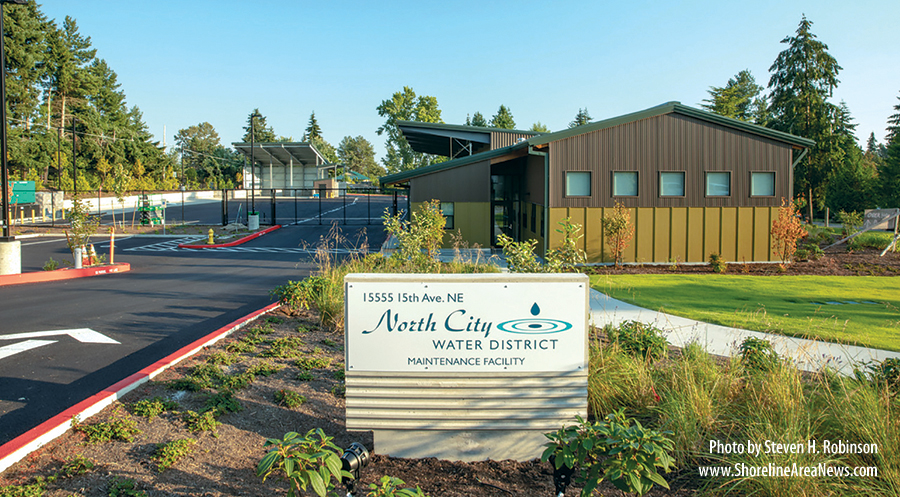 For years, North City Water District planned to upgrade and expand our Maintenance Facility, in our ongoing effort to provide safe, affordable water utility service within our rapidly-growing service area. The long-awaited dream finally became a reality as of January 2021.  
This page was last updated on January 27, 2021
View detailed updates about this project here >

Location
Our new Maintenance Facility has been constructed on a 3.2 acre site, located southwest of Hamlin Park at 15555 15th Avenue NE in Shoreline.
Timeline
January 26, 2021: After more than 30 years of planning and creative responses to various setbacks… we were beyond excited to gather for the (staff-only, outdoors, masked and safely distanced) grand opening! Read more and take a virtual walk through >
September 2020: Exterior and interior construction is nearly complete, interior finishes are installed, the emergency back-up generator has been placed, landscape is growing beautifully, now all we need is electricity and internet. Read more >
June 15, 2020:  The metal portion of the Vehicle Facility is being erected, and its roof will be installed soon, along with a roof on the Decant Facility. We've constructed the Vehicle Facility's concrete pad, and removed an old structure on the northeast corner of the property to make way for the crews' parking lot. Read more >
March 6, 2020: Current progress includes new exterior doors and windows, getting the mechanical and electrical systems roughed in, cubicles being framed and sheet rocked, and insulation added to the exterior walls. Next up, we'll be pouring a new foundation to be ready for the delivery and erection of the metal Crews Vehicle Facility structure to be erected in the next few weeks.
November 6, 2019: The contractor is pouring the concrete for the generator and the Decant Facility, preparing to rough-in the plumbing, electrical, and heating systems, and will soon begin installing sheetrock inside the Crew Facility. Read more >
September 26, 2019:  This week the roof is scheduled to be installed over the new Maintenance Staff facility. We were also thrilled to give Washington state Representative City Ryu a tour of the project's progress!
August 27, 2019:  The first wall is going up today!
August 15, 2019:  Foundations are being poured.
June 17, 2019: Faber Construction Corp. is given Notice to Proceed.
April 9, 2019: Phase II Construction contract awarded to Faber Construction Corp.
March 12, 2019: issued request for construction bids for reduced project scope.
February 14, 2019: no contractor was selected because all three construction bids were higher than expected; staff began working on options for either reducing project scope, or phasing the project over multiple years, to arrive at the facility we need within a reasonable budget and timeframe.
February 12, 2019:  Phase II Construction bids received.
January 24 and 30, 2019:  Pre-bid site visits for Phase II Construction.
End of January:  Phase I Site Preparation completion.
January 8, 2019:  Final Inspection, completion of the bioretention pond and Flexterra installation outstanding.
Week of November 26, 2018:  Expected completion of Phase I (site work), weather dependent.
Mid November, 2018:  Phase I continues: paving and some landscaping, weather dependent.
Week of October 8, 2018:  Phase I continues: curb, gutter and side walk installation begins.
Week of August 20, 2018:  Phase I continues: site grading and underground utilities installation (sewer, water, storm water electrical, gas and telecommunication).
Week of August 6, 2018:  Phase I begins: building and site demolition.
Week of July 30, 2018:  Asbestos removal is expected to be completed.
July 9, 2018:  Permits for the site development project were received from the City. Activities begin on site this same week, including tree preservation.
June 18, 2018:  5 bids were receive for the first phase of the District's new Maintenance Facility.  New West Development out of Everett was the lowest bidder at $2,012,499 (excluding Washington state sales tax).
May 1, 2018:  District resubmitted plans for Site Development, Right of Way and Decant Building permit.
April 12, 2018:  District receives comments on the plans and begins to address them for resubmittal.
February 20, 2018:  District submits plans to the City of Shoreline for permits.
December 19, 2017:  our Board of Commissioners met and voted to adopt Tree Preservation Option C.
November 15, 2017:  Public/Neighborhood Meeting – Minutes and Tree Preservation Options.  A question was asked at the meeting about what precipitation information was used for this project.  Our stormwater engineer is using 37.5 inches of annual rainfall for this project.
August 15, 2017:  Hearing Decision for Special Use Permit and Variance Request for Fence Height.
April 25, 2017:  Public / Neighborhood Meeting – Minutes and Presentation.  Images are shown at full buildout.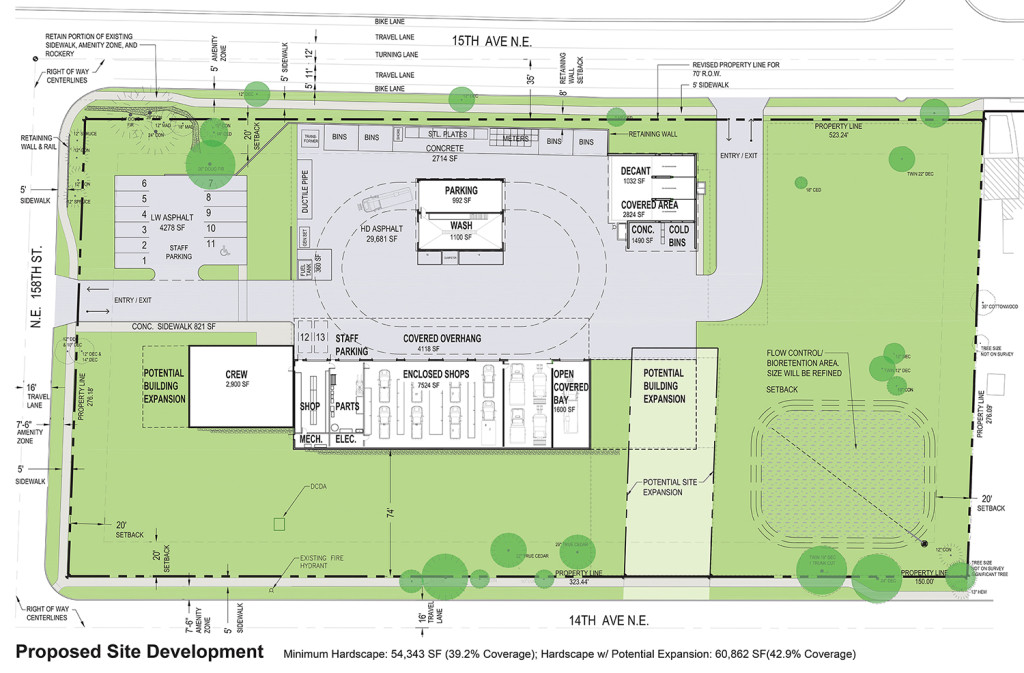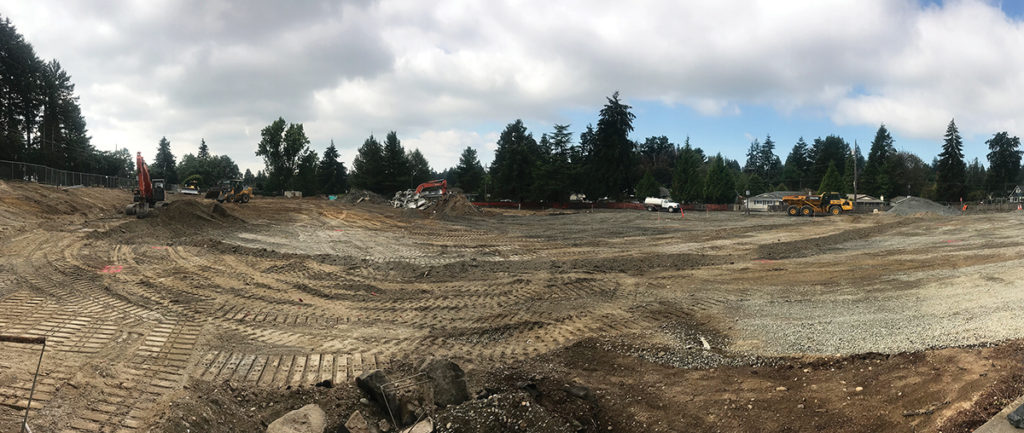 Site work underway during the week of August 28, 2018

Site work nearing completion during the week of November 5, 2018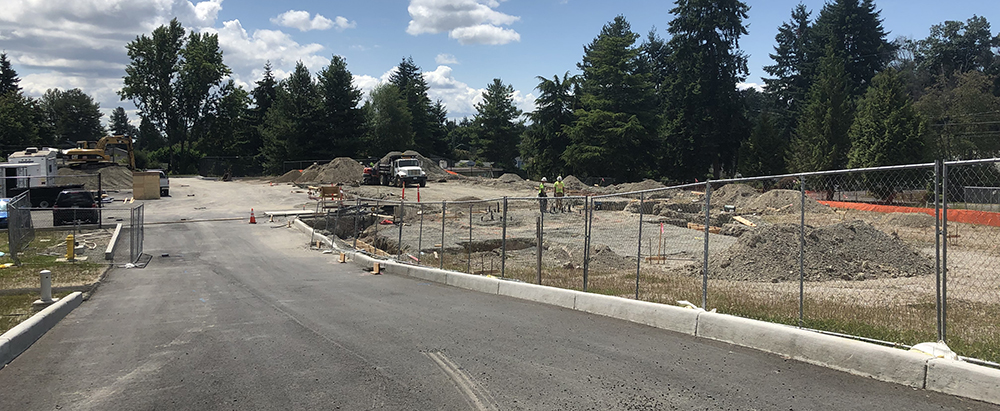 Construction underway during the week of July 22, 2019
Project Schedule
| | | |
| --- | --- | --- |
| Start Date | Development Phase | Estimated Completion |
| October 2016 | Site Master Plan | May 2017 |
| April 2017 | Special Use Permit | August 2017 |
| August 2017 | Design Development | April 2018 |
| Feb 2018 | Submit Plans for Site Work Permits | May 2018 |
| May 2018 | Site Work Contract out to bid | June 2018 |
| June 2018 | Award Site Work Contract | July 2018 |
| July 2018 | Site Work | November 2018 |
| Sept 2018 | Building Permit | November 2018 |
| January 2019 | Building Construction Contract out to bid | January 2020 |
| February 2019 | Building Construction Contract awarded | February 2019 |
| February 2019 | Building Construction | February 2020 |
| Spring 2020 | Water District crews locate to the new site | Spring 2020 |
| Summer 2020 | Existing site and facilities to be sold | |
Project Scope
A. EXISTING SITE
The site is currently unused (was previously used by the Church)
There are four buildings
There is parking for 127 vehicles
57% of the site is covered with buildings and pavement / hardscape
The main church building is built up against the east property line
The basement level of the building is up to 10 feet below the sidewalk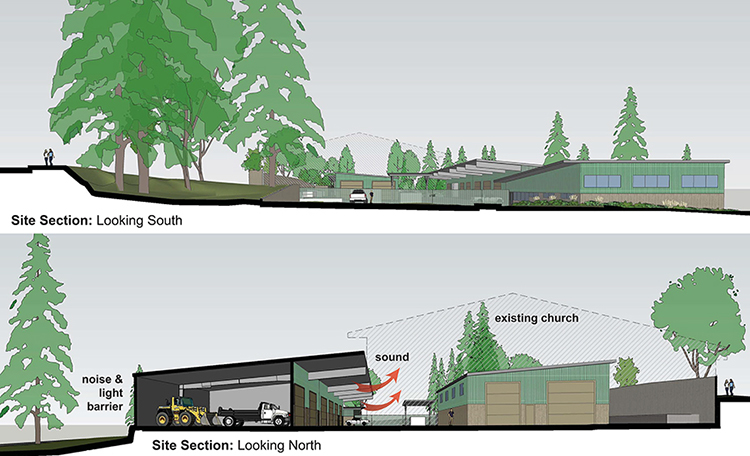 Site section drawing of our new Maintenance Facility on 15th Avenue Northeast in Shoreline.  Graphics depict the site at full buildout.
B. PROPOSED DEVELOPMENT
North City Water District is working with Wagner Architects to develop a Site and Facility Master Plan:
The Plan proposes to remove all existing development, including all paving and buildings
City Development guidelines limit hardscape to 50%; the Master Plan proposes only 40% of the site be covered with hardscape (hardscape cannot grow to over 50%)
The plan assumes that 6 Water District staff will work on site; this may grow to as many as 10 staff
The Master Plan provides parking for up to 13 staff and visitors, removing 114 parking spaces; this will significantly reduce traffic and street impacts in comparison to the site's former Church use
Proposed development height would be lower than the existing church height
Development will include an office-crew Administrative building, smaller operational buildings, and an operational yard
The surrounding neighborhood will be shielded from operations by walls and fences, along with open landscaped space
The two existing driveways into the site will be maintained, one from 15th and one from 158th
Public access, visitor, and staff parking, as well as the front door into the Administrative building, will all be from 158th
There will eventually be four buildings on site:
1.  Office/Crew Administrative and Shop Building:
Building:
Offices
Large workroom for field crews
Toilets, showers and lockers
Lunchroom
Areas to clean up and store wet gear
A series of regular bays with vehicle access
Secure small parts storage
Workshop for working on meters and hydrants
Enclosed vehicle parking
Covered area in front
Back wall will shield operations from the neighbors to the west
2.  Drive-Through Vehicle Wash Building:
A drive thru heated parking space for the Vactor will be attached
3.  Decant Building:
This is where vactor truck spoils are discharged. The vactor is used to excavate around water pipe breaks; the excavated soils are a watery consistency, like milkshakes. The decant building separates the water from the solids.
4.  Future Fueling Station:
We may construct this building in the future, to ensure District vehicles can be fueled in the event of a natural disaster; it will be covered by an open canopy.
An adjacent standby generator will provide power to the entire site, it will be secured with a weather and sound enclosure.
We are currently working to clarify development standards on the site:
The street frontage along 14th, 158th, and 15th will all be improved
One half of 14th and one half of 158th will be paved with new curb, gutter, storm sewer, and landscaping
The sidewalk and landscaping along 158th will also be modified
There will be a dedicated Landscape Section at 14th, and at the intersection of 15th and 158th
Project Financing
In order to keep financing costs as low as possible, we pursued bond financing. When the interest rates dropped in the summer of 2016, we had our bond rating reviewed by Moody's Investors Service: they confirmed our outstanding operations with an ongoing Aa3 Bond Rating as of October 25, 2016.
With such a great rating, we went to the bond market and on November 2, 2016, sold $7.685 million dollars of 30 year revenue bonds which will be applied to this maintenance building as well as other capital improvement projects.
History
Mid-1940s:  the site of North City Water District (NCWD)'s current maintenance facility (located at the intersection of NE 169th Street and 15th Avenue NE in Shoreline), was also home to our administration operations. During the next 30 years as our service area grew, we outgrew both spaces, and began exploring other parcels.
1996: NCWD purchased an old bank branch building located at 1519 NE 177th Street in Shoreline and converted it into affordable Administrative Operations space. The Maintenance Facility remained at its same location (169th and 15th).
1997:  NCWD and the Shoreline School District jointly purchased roughly 20 acres at 23rd Avenue NE and NE 150th Street, known as the South Woods property, from the Department of Natural Resources. We split the cost, and divided up the parcels so that each District (Water and School) could meet their needs. Our intent was to eventually consolidate by locating three new facilities on this site: a new Administrative Operations Facility, a new Maintenance Facility, and a new Water Treatment facility.
2005-2006:  the City of Shoreline passed a Parks Bond measure; at the City's urging, we sold our South Woods parcel to the City so they could convert it into a park with trails.
2010-2012:  the old bank branch building that we had converted into our Administrative Operations building was showing significant signs of failure. While performing a study to ascertain the problems and solutions, we also explored the idea of combining both Administrative Operations and Maintenance Facility on the same site. This combination required significantly more land, which we attempted to obtain, but were unsuccessful, so we proceeded with the Administrative Building renovation only.
Meanwhile we explored several options for meeting the ever-growing Maintenance Facility needs, including 1) expanding and remodeling the existing site; 2) attempting to co-locate with another District or Agency at another location; or 3) purchasing or leasing a larger property.  Option 1 was not feasible, as the existing site did not provide good turning radius for some of the larger District vehicles, and could not be expanded enough to meet our current and future needs for equipment storage, work space, a back-up generator, and adequate crew space. Option 2 was attempted with the City of Shoreline at Brugger's Bog, but final arrangements were unsuccessful. This left us with Option 3.
2013-2014:  after exploring several different sites, The Northwest Church's property came up for sale in the summer of 2013. We conducted a preliminary site and building analysis and determined this was the best possible location for our new Maintenance Facility:  it was conveniently located near the District's main Administration Office, the site was amply sized to accommodate our needs, it had little or no use restrictions (such as wetlands or steep slopes), and the site featured two ingress/egress points which would allow larger vehicles to access the site with ease. We purchased the 3.2 acre site from the church in February 2014 for $3.3 million dollars.
2014-2016:  The Northwest Church began renovating their new facility on Scriber Road in Lynnwood, while still using their existing site for services. Once their renovation was complete and the church moved to their new home, North City Water District conducted a more in-depth study to determine whether we should reuse the church's existing structures, or remove and replace them with a more energy efficient facility. It soon became apparent that the existing structures were too big for our needs, which would cost more for us to convert, as well as to maintain over the life cycle of the site. In September 2016, after a formal Request for Qualification process, the District selected Wagner Architects to help us redesign the site for our maintenance facility.
2017:  we've held Public / Neighborhood Meetings in April and November to gather input and opinions about the site's development, and look forward to working with our neighbors in the upcoming year as we further refine the vision for our site.