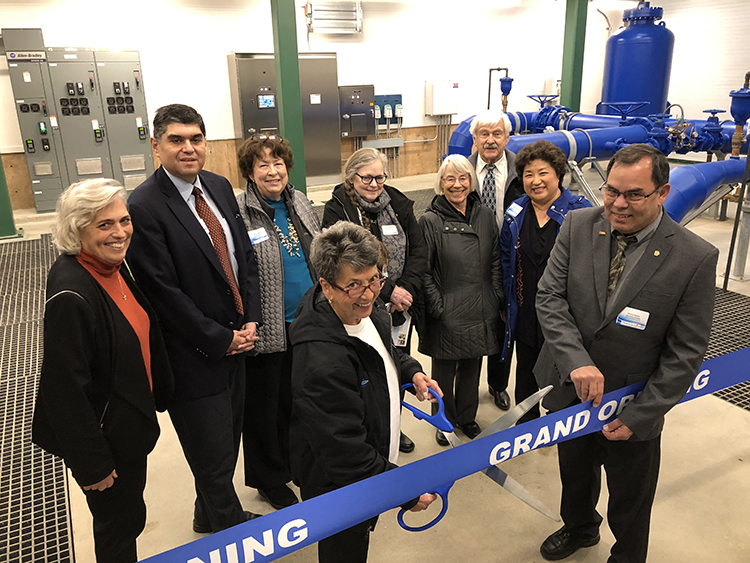 Earlier this week, North City Water District was thrilled to host a ribbon cutting ceremony marking the official completion of our new North City/Denny Clouse Pump Station. As the final piece of a thirteen year-long, multifaceted project, it was definitely cause for celebration!
Pictured above, back row, from left to right: Diane Pottinger, District Manager and Public Works Board member; Representative Javier Valdez (46th District); Senator Maralyn Chase (32nd District); Cecilia Gardener, Executive Director, Washington State Public Works Board; Representative Ruth Kagi (32nd District); and Cindy Ryu (32nd District)—with North City Water District Comissioner Ron Ricker standing between Ruth and Cindy in the back. Standing by the ribbon in front are North City Water District Commissioner Charlotte Haines, and our Operations Manager Denny Clouse (for whom the Pump Station was named).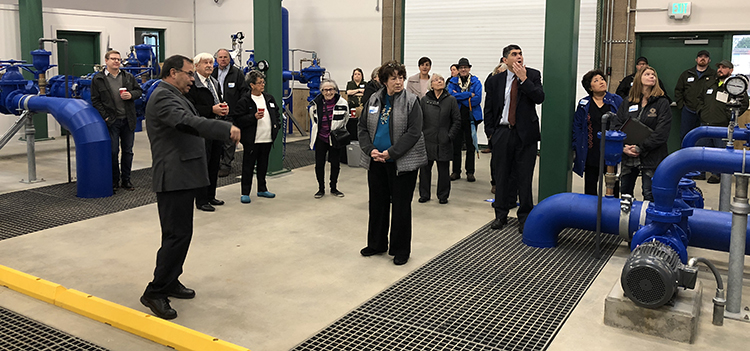 Also present were Brietta Carter, Steve Deem, and Janet Cherry from the Washington state Department of Health; Jacquie Andresen from the Public Works Board; Adam Schuyler, Jon Davies and Ron Dorn from the design engineering company BHC Consultants; Jim Kuntz, the Executive Director of the Washington Association of Sewer and Water Districts; and our own (and very proud) District staff, including our Operations Manager Denny Clouse, who is shown above leading the group on an informative tour of the Pump Station's many innovative features.
Comprehensive Project Endeavor
Although the need for a new Pump Station was first identified back in 2007, a number of other projects had to be addressed on the site before we could start its construction. These related projects included:
Demolish the existing 0.4 MG (million gallon) concrete reservoir;
Renegotiate long-term leases with the various wireless carriers who had their antennae equipment on the site ;
Conduct thorough site planning including a lot line adjustment;
Upgrade the existing 3.7 MG Reservoir (interior and exterior);
Reinstall the new wireless carriers' antennae (along with a new safety railing system, and cable consolidation);
Construct the new Wireless Carrier Building; and finally…
Demolish old pump station once the new Pump Station came online.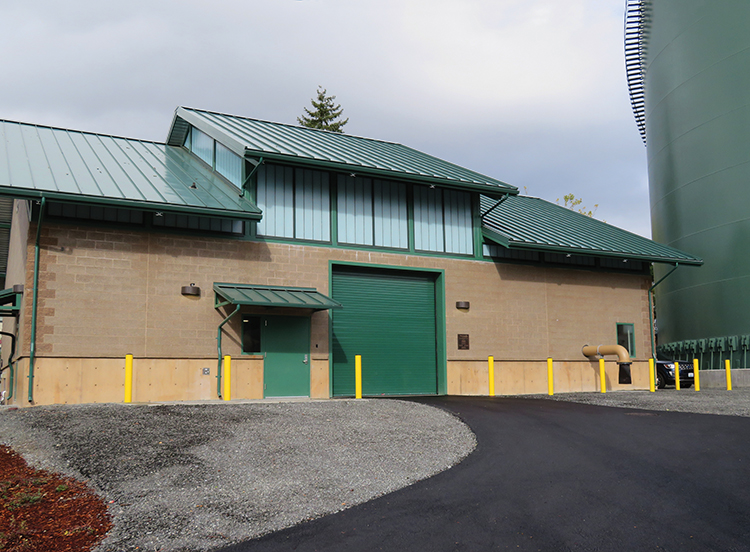 Pump Station Scope
The new Pump Station consists of a new 3000 sq ft CMU (concrete masonry unit) building that houses pumps capable of managing both existing and future water system demands within the Shoreline/Lake Forest Park communities—including the expected growth associated with the expansion of Sound Transit.
Its design addresses both redundancy and resiliency—if one pump fails, another will start automatically. In the event of a major earthquake, an earthquake valve will automatically shut, thereby keeping as much water as possible in the 3.7 MG Reservoir for future use.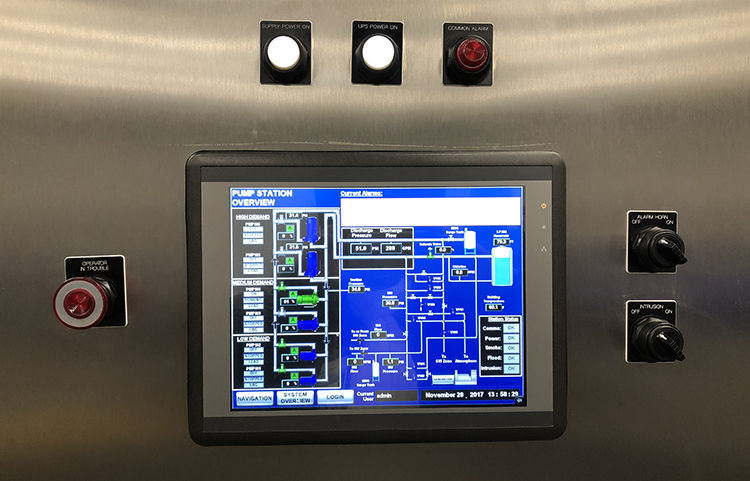 Related improvements included a relocated emergency generator, and a new access road.
BHC Consultants were the project design engineers; JW Fowler was the Contractor.
Construction costs were $4.85 million including sales tax.
Previous blog posts about the project:
October 2017 | March 2016 | May 2015 | June 2014 | March 2013
Pump Station Financing
Because it was many years in the planning, funds were already on hand to finance the Pump Station's construction, augmented with revenue from the renegotiated wireless carrier leases.
However, during the selection of the Pump Station's design consultant, a number of additional efficiencies and improvements came to light. After further exploration, our Board of Commissioners agreed this additional scope should be incorporated to meet the anticipated future needs of the community. This expanded scope required additional financing.
Given that we had recently taken out bonds for other capital projects, and thus did not have the resources to go back to the bond market so soon, we applied for, and eventually received, a 1.5% interest loan through Washington's Drinking Water State Revolving Fund (DWSRF) that enabled us to successfully expand the Pump Station's original scope.
DWSRF funds are inherently tied to the US EPA: each year, the EPA awards funds to each state for a revolving construction loan program that directly benefits the public water system.  In order to have access to the program, each state must submit an annual application with the EPA and agree to a state match.
Unfortunately, when Washington State failed to pass a capital budget in the 2017 period, no loans were possible in 2017.
Legislators in attendance asked many questions about the facility, about water system operations, and about financing—all of which will help them as they begin their 2018 legislative session and address our state's capital budget.
Washington state's ability to support the financing of projects like this has a direct and positive impact on a community—not just in terms of reliable, safe water operations, but for emergency / disaster preparedness, and future economic development.